Sign-up to play in Venice
Thursday, Oct 5 @ 8 P.M. – 10 Weeks + Season Gift
Oakwood Rec Center | Mask-Wearing Encouraged.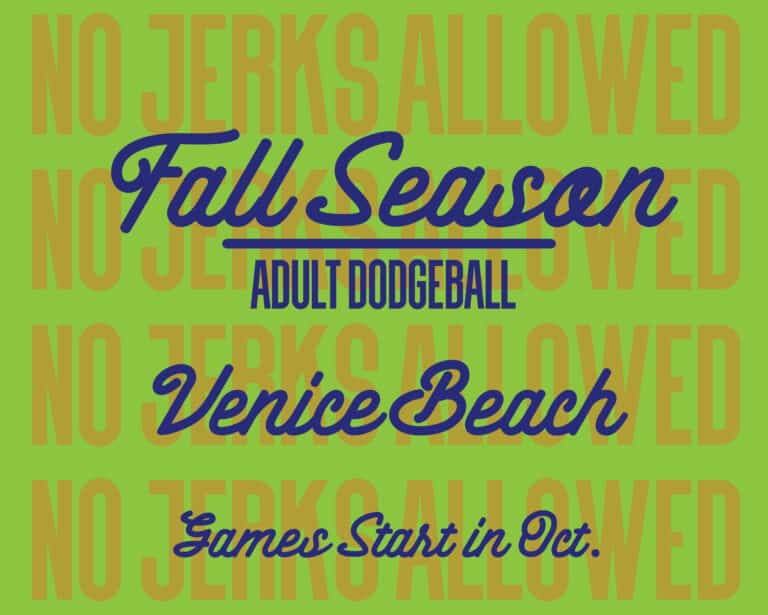 HOW DO YOU PLAY DODGEBALL?

So, you're asking what dodgeball is all about? It's simple: The name of the game is to turn the opposing team into glorified spectators! You either launch foam missiles at 'em until they're out, or show off your cat-like reflexes by catching their throws. Either way, the goal is to be the last squad standing!

WHAT HAPPENS IF I GET HIT WITH A BALL?

Got hit by a ball? You're on a temporary timeout and must exit the court—no hard feelings! But keep your eyes peeled: if a teammate catches that ball before it hits the ground, you're resurrected! Think of it as dodgeball's own version of a "Get Out of Jail Free" card.

CAN I CROSS THE CENTER LINE?

Cross the center line? That's a dodgeball no-no! Do it and you're called out—like trying to jump the line at a hot nightclub and getting bounced. Stick to your side and keep those sphere-hurling skills in bounds!

What to wear? Think gym class hero, not fashion runway! Comfortable athletic gear and nimble shoes are your go-to. Jewelry? Leave the bling at home; we don't want any dodgeball-induced fashion emergencies. But hey, who are we to say… you do you, just dodge responsibly!

Is dodgeball safe? It's not a knitting circle, but when played by the rules and under watchful eyes, it's generally a safe bet. Don't skip the pre-game warm-ups and stretching—your muscles will thank you! Teamwork makes the dream work, so chat with your teammates to sidestep any mid-air collisions or dodgeball fiascos.

IS IT COOL IF I'VE NEVER PLAYED DODGEBALL BEFORE?

Never played before? No worries! Dodgeball is the "everybody's welcome" party of sports. Skill level is just a number, so come as you are and prepare to have a blast. Newbies today, dodgeball legends tomorrow!